News
The summer 2017 newsletter has been delivered to members. Older newsletters can be found at the bottom of this page.
Potential changes to railway path
EDC is considering plans to upgrade the path that runs on the Moss alongside the railway line, with a view to encouraging more cyclists to use the path. This is part of the Council's Active Travel Strategy and would include extending the path beyond the Moss to Westerhill Rd. in Bishopbriggs. The proposal for sharing the path with an increased number of cyclists has possible implications for walkers, children and dogs, as well as for the rural nature of the Moss and its wildlife, and we have outlined our concerns to the Council.
The project has been put on hold for the time being, but the Council is undertaking a feasibility study which will be available for consultation.
In the meantime we welcome your comments to our email address or on our Facebook page in anticipation of future discussions.
We will keep you abreast of further developments.
Aerial video of Lenzie Moss
This video was taken in March 2017.
Lenzie Moss Peatland Restoration Project
Work to clear birch scrub that was encroaching on the bog, level the bunds (the ridges between the channels of cut peat left over from the commercial extraction of peat last century), and install additional dams, was completed in 2016. This was financially supported by SNH in furtherance of the Scottish Governments policy of protecting peat bogs.
Further information on SNH Peatland Action
Wildflowers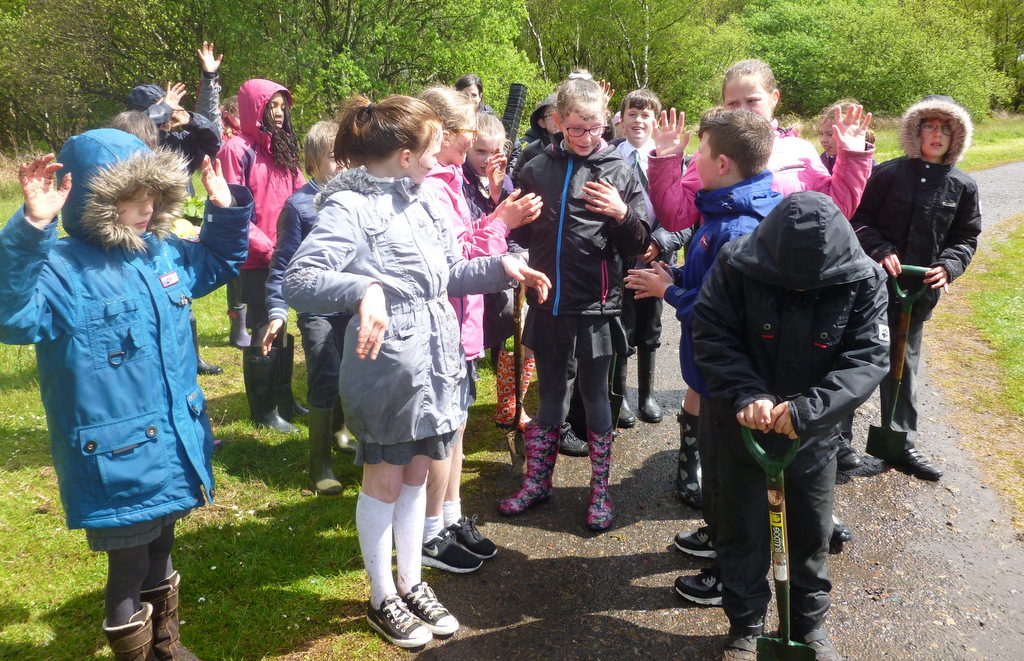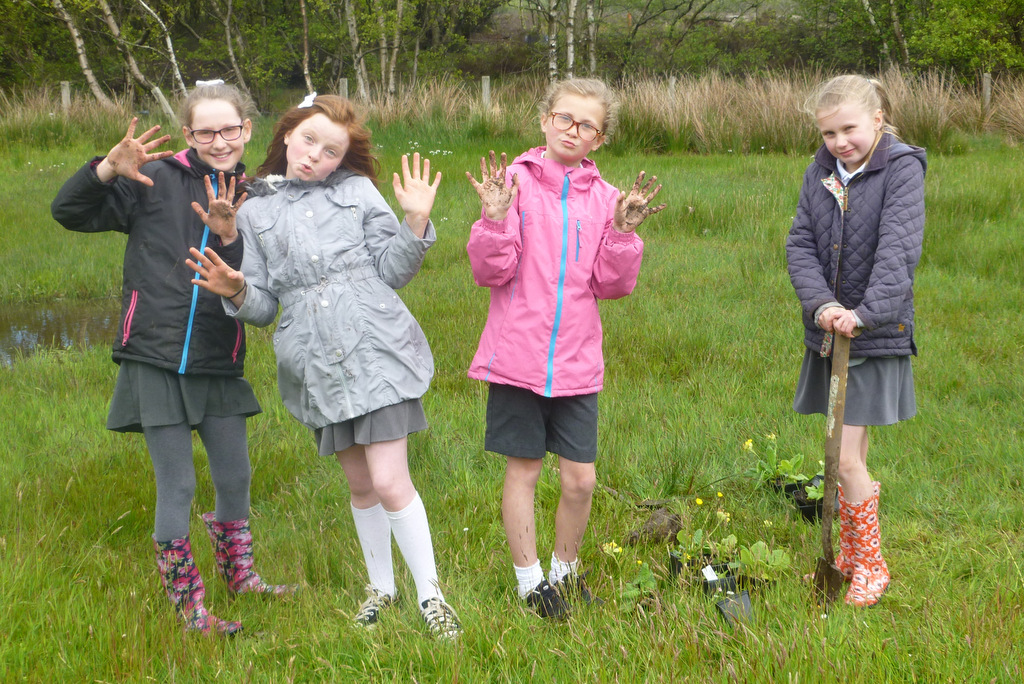 Thanks to a grant from Keep Scotland Beautiful, and fund raising from the P5/6 class at Lenzie Moss Primary, we have been able to purchase a large number of wild flower plants.
The pupils raised £160 from a sponsored silence, during which they continued with their work as normal and communicated by writing notes. They investigated what they thought is important in a community, and through this found that green space is incredibly important. As a class, they decided they would like to raise money for conservation of local green space, and identified this as the Moss.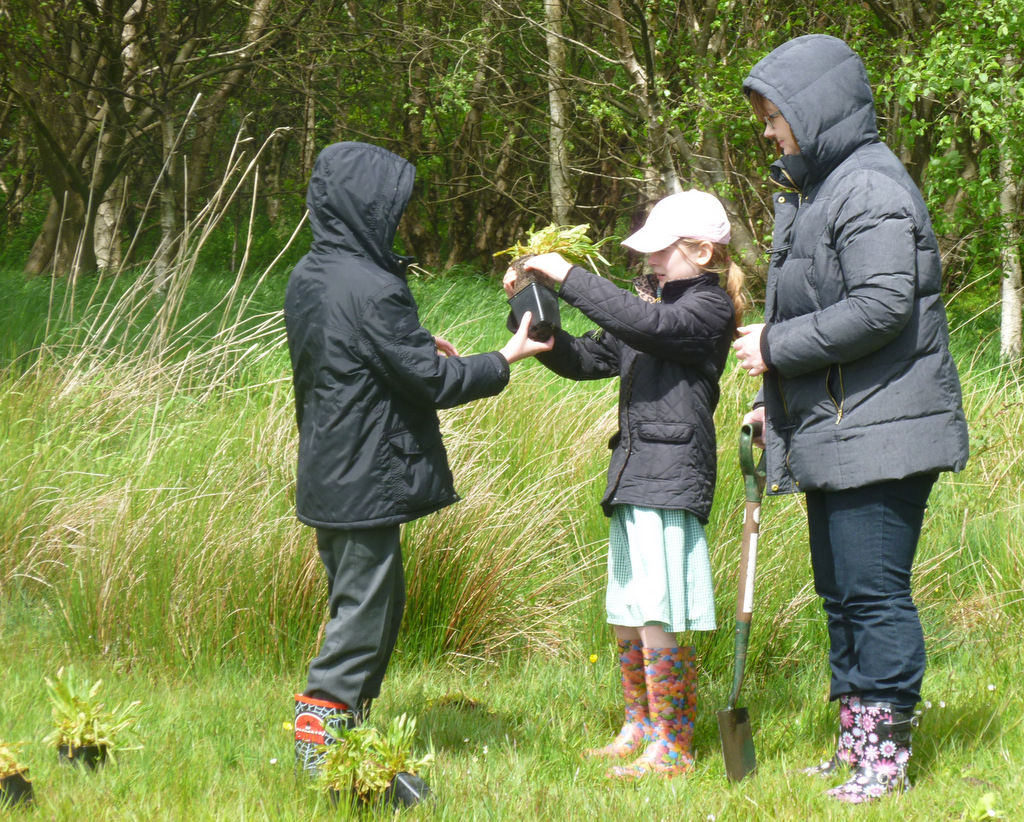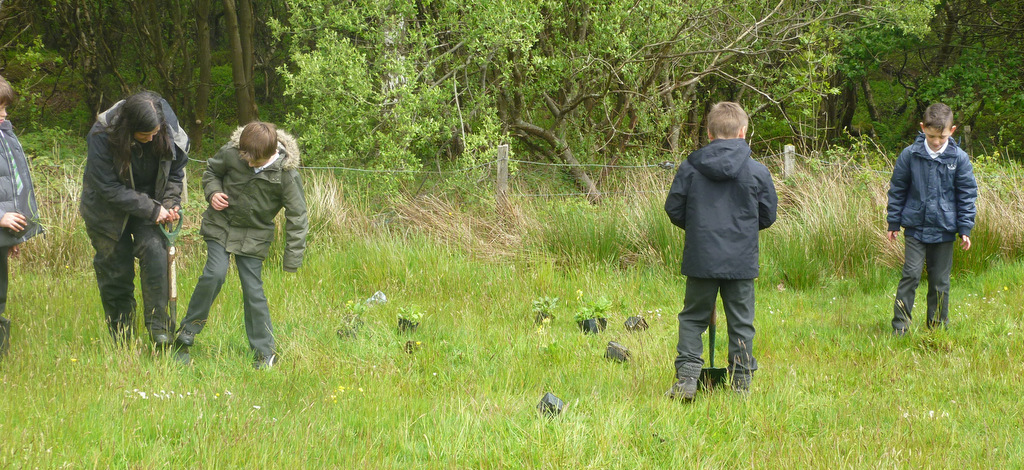 Planting Wildflowers
Twenty eight children turned up on cold, rather wet day to plant in an area of grassland at the top of Heather Drive. It was very muddy, but with the help of the Countryside Ranger and members of the Friends of Lenzie Moss, their wildflowers were planted. We hope there will be a good show of flowers next year. Thanks to Fiona Burns of the Mugdock Rangers for organising this, and a big thank you to the pupils of P5/6 at Lenzie Moss Primary school.
John Muir project
John Muir was a Scottish-born pioneer of nature conservation in America, where he was instrumental in safeguarding wilderness areas and forests, also realising the importance of "half-wild parks and gardens". Lenzie Moss being a prime example of a protected wild place, and close to the John Muir Way, Scottish Natural Heritage awarded FoLM a grant to run a project as part of their celebration of the first John Muir Festival, and the opening of the John Muir Way.
The theme of the project was 24 hours on Lenzie Moss. Ranger-led walks at dawn and dusk were busy with both local people and others new to the LNR, who enjoyed the wildlife and being informed about the conservation work.
For daytime, two photographic activities took place: 1) we advertised widely asking for photos and experiences of Lenzie Moss. Over 100 photos were received! These were displayed at our AGM, and can be viewed by following the links from our Photos page. 2) with the grant we bought a night vision wildlife camera, to capture the nocturnal inhabitants of the Moss.
All these fantastic photos merited the widest possible audience, so we were lucky to receive a further grant, from EDC's Community Grants Scheme, for portable display boards. We intend to exhibit these in local schools, community hubs, and at local events. We thank Scottish Natural Heritage and the Community Grants Scheme for funding this project.
For the full report on this project click here
Newsletters